OpusFSI Flight Simulator Interface
---
Live View
Live View is a standard feature within the Opus Flight Simulator Interface; this feature provides a multi-screen networked display option for your sim by synchronizing multiple networked PCs running copies of either the Microsoft FSX, FSX-SE or Lockheed Martin Prepar3D simulator.
Live View is ideally suited to home cockpit builders and general enthusiasts alike. The Live Camera control feature included within Opus also simplifies the Live View set up, allowing you to customize and automate the Live View displays on each of your client PCs.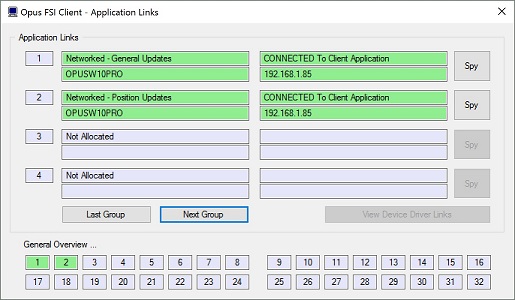 Live View Features
Live View synchronizes the aircraft's current position, attitude, landing gear, wheel movement, lighting, ailerons, elevator, rudder, flaps, spoilers (speed brakes), engine throttles and reversers.

Live View synchronizes the simulator's date and time, with either weather themes or full METAR weather updates for the aircraft's surrounding area.

Live View employs and optimizes multiple dedicated high-performance IPC network links, with Client Side Smoothing software, to provide the highest level of performance and the smoothest possible operation.

Live View requires minimal set up and configuration to get up and running.

Live View on the demonstration version of Opus will run for 15 minutes allowing you to evaluate the software and ensure compatibility with your system.
The Live View multi-screen networked display feature allows FSX/P3D to be synchronized across multiple networked computer systems, including laptops.
N.B. In order to see the full synchronized effects of Live View users must save a default flight with all engines running on each client system to ensure the aircraft is powered up correctly and ready to fly.
Live View can be used to create a variety of panoramic views or to simply provide additional fixed spot plane, fly-by, tower, or map views on separate 'client' computers.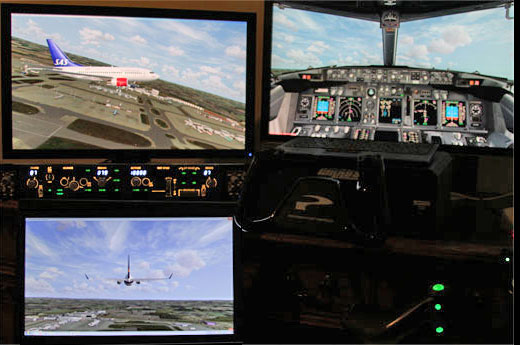 With Live View, Opus Software have used their 30 year experience of developing high performance real-time networked telemetry and data acquisition systems, to provide the networking software you need to create a multi-screened experience for FSX/P3D. No matter what complexity of system you intend to create, Live View will provide the ideal solution.
A networked Live View system is created by activating the FSISERVER program on your main 'flying' computer, and running the FSICLIENT program on each of your connecting client systems (PCs or laptops).
The configuration of the Live View system is simple to the extreme, just tell the main 'flying' server how many Live View clients you wish to support, and configure the server's computer name or IP address into each of the client systems, and away you go. You can sit back and watch your client systems connect and start communicating with the server. Spy buttons help you monitor the activity over all the networked links, or monitor the overall activity and operation of the Opus Server and Client programs.

To ensure consistent views you should also have the same scenery, textures, and airport Addons installed on each FSX/P3D system.
The unlicensed version of the Opus Server program will operate in a Demonstration Mode for 15 minutes, with a minimum of 2 minutes required in between successive runs, allowing you to evaluate the software and ensure full compatibility with your system.
Photo courtesy of the Human-Centered Design Institute, Florida Institute of Technology, using OpusFSX networked multi-screen synchronised displays with Prepar3D
Live View Weather Synchronization ...

The current version of the software supports synchronization using either Static Weather Themes or Dynamic Live Weather using the surrounding area's METAR data. Alternatively, the Live Weather Engine allows you to create and name your own themes based on the current live METAR reports.

Please refer to the OpusFSI_v6 Getting Started Network guide for further details of how to set up Live View.
---
Home About Us Products Downloads FAQ Gallery Testimonials Contact Links